Reagan redux: The nine most terrifying words in the English language
On his birthday we ask what the former president might say about "governance without government" on a global scale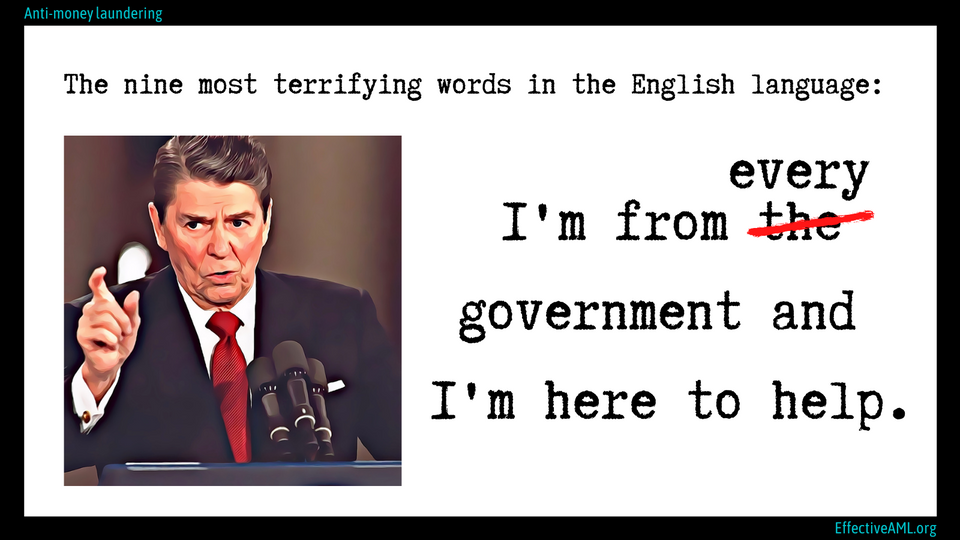 As an example of the failure of big government on a scale so grand that the reality is hard to see – like not recognizing the vast expanse of Yellowstone Park as the caldera of a super-volcano – the modern anti-money laundering movement's outsized reach is easily overlooked.
It is, however, becoming increasingly recognized for what scholars (and even the United Nations) have been shouting from the rooftops for decades. (By shouting from the rooftops, I mean publishing evidence-based research in peer-reviewed journals, seldom read outside academia).
Fast approaching the impossibility of #zeroimpactinfinitecost, it must change, eventually, but old habits die hard. In the meantime, everyone must obey existing mandates, whether or not they are capable of reaching their founders' goals.
In any event, arguably reflecting a subtle rejection of democracy and a tremendously successful power grab that not even President Reagan might have envisaged – where ostensibly "sovereign" nations must implement FATF rules as the price paid for frictionless access to the international financial system – whether the policy prescription meets their needs, or not– a pedant might update Reagan's aphorism with 27 words:
Elected by no country's citizens and accountable to none, we are from a global agency that controls every government's financial surveillance laws and we're here to help.
But, while inflation may be fashionable again, President Reagan got it right. Nine words still sums it up nicely.
I'm from every government and I'm here to help.
---
More: UN slams AML's 0.2% success rate – Summarizing seminal report exposing puny impact of anti-money laundering efforts.