"Truth misspoke", a new word game inspired by US president, ideal for AML
Researchers find that a country or bank can now flip the AML paradigm – demonstrably slashing crime, harm, regulatory risk, and costs; risk free – yet, curiously, FATF remains opposed to success. An ideal environment for "truth misspoke".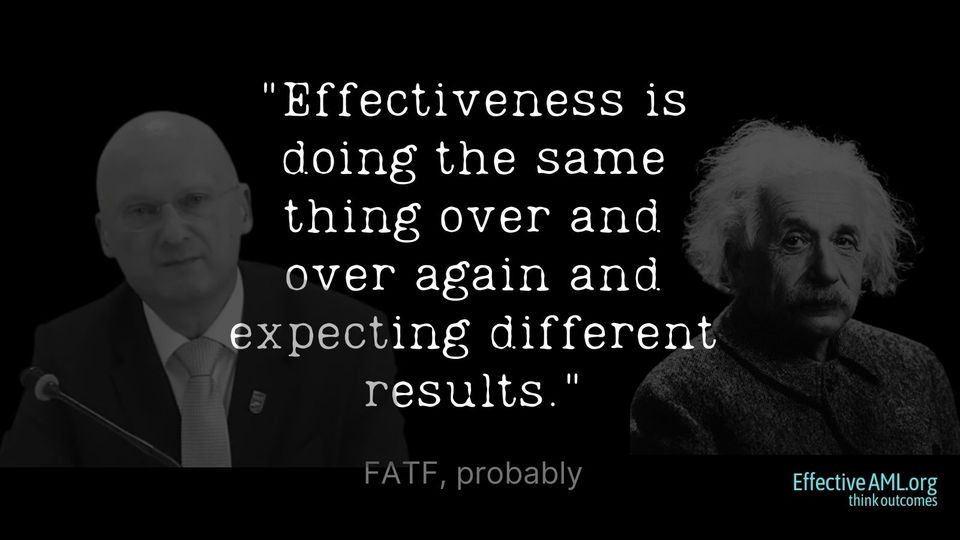 Researchers find that a country or bank can now flip the AML paradigm – demonstrably slashing crime, harm, regulatory risk, and costs; risk free – yet, curiously, FATF remains opposed to success. An ideal environment for "truth misspoke".
---
Last week's gaffe by former US President George W Bush, widely regarded a Freudian slip – an unintentional error revealing subconscious truth – suggests a new game.
With common features between the paradoxical "wars" on terror and money laundering – each ironically enabling terrorism and crime respectively – "Truth misspoke" works well in the parallel universe of anti-money laundering orthodoxy.
"Truth misspoke", the founder
Speaking at his namesake George W Bush Institute in Texas, the former US president appeared to describe the 2003 invasion of Iraq as "wholly unjustified and brutal".
President Bush – who launched the 2003 war on bogus claims that Iraq was developing weapons of mass destruction – meant to condemn Russia's invasion of Ukraine. He described instead the "brutal and unjustified invasion of Iraq."
After correcting his mistake, Bush doubled down with a self-deprecating jab, purposefully acknowledging the unjustified brutality of the Iraq war. In a final flourish, apparently referencing his advanced years, Bush breezily self-absolved any sense of responsibility.
The anti-money laundering movement, a global leader in moralizing do-goodery, deeply unreflective of its impact and harm, offers endless opportunity for similar japes.
"Truth misspoke", the game
Players take turns identifying a truth denied today; and suggest how its dissembler in chief might later admit to it – perhaps decades later when reality can safely be brushed back under the carpet.
Current context: Governments or banks can now slash crime, harms, risk, costs, risk-free, despite FATFs devout aversion to success
Independent researchers have identified innovative new pathways that would allow a government or banks to cut crime, demonstrably – while slashing regulations, risk, harms, and the eye-watering costs of AML controls ultimately imposed on citizens.
Clearly, this would allow government or bank leaders to cut the harms from crime and the "unintended consequences" of AML controls, effectively return hundreds of billions of dollars to businesses and households, and, for banks, boost customer and regulatory relations; but all is not as it seems.
"Win-win-win" sounds dandy, but don't go thinking that FATF will lead the charge.
The likelihood that FATF will experience a spontaneous epiphany for effectiveness – and risk achieving its original mandate to crush crime and wind up its mission as a job well done, as G7 leaders intended in 1989 – is somewhere between nil and zero. At least, based on FATFs latest re-affirmation of its decades-long "more of the same" strategy of hope. Firmly anchored in the institutionalized groupthink of previous rounds of effectiveness angst, merchandise in the underground gift store has been updated accordingly: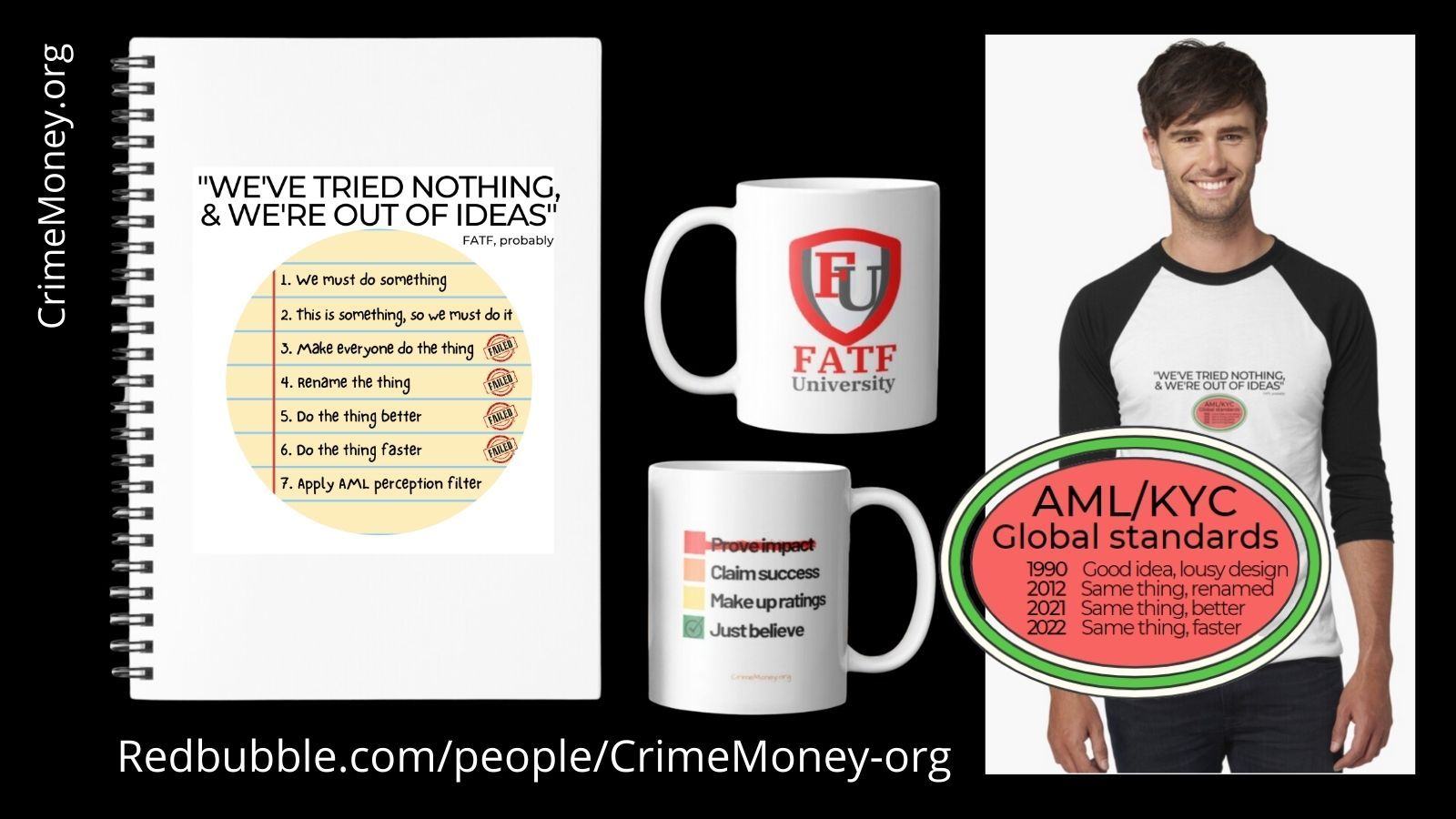 So, let's play the new game.
"Truth misspoke", AML version
It is 2044. After a few visionary banks and country leaders made subtle changes in 2023, triggering several national regulators to exclaim success and prompting FATF to start taking a leadership role for meaningful outcomes, profit-motivated crime plunged and now (in 2044) is a tiny fraction of what it was in 2024.
The few remaining anti-money laundering regulations are unobtrusive, inexpensive, and effective.
For 20 points, name a plausible 2044 "truth misspoke" moment.
Here's one for starters.
At the post-award ceremony of the Nobel prize awarded to [country leader, bank leader, fill in the blanks] and T Raja Kumar, FATF President in 2024, Kumar's predecessor Dr Marcus Pleyer was asked about a desperate power-grab by the last remnants of the once mighty Sinaloa cartel, led by the reclusive Amado "Babyface" Jesús Guillén.
A grandson of the infamous Joaquín "El Chapo" Guzmán, who led the criminal organization in the heyday of organized crime – when anti-money laundering rules let criminals keep up to 99.95% of illicit earnings – in early 2044 Guillén mounted a ruthless ill-fated attempt to recreate his predecessors' criminal empire.
Responding to the brief resurgence of violence, Dr Pleyer remarked, according to the transcript: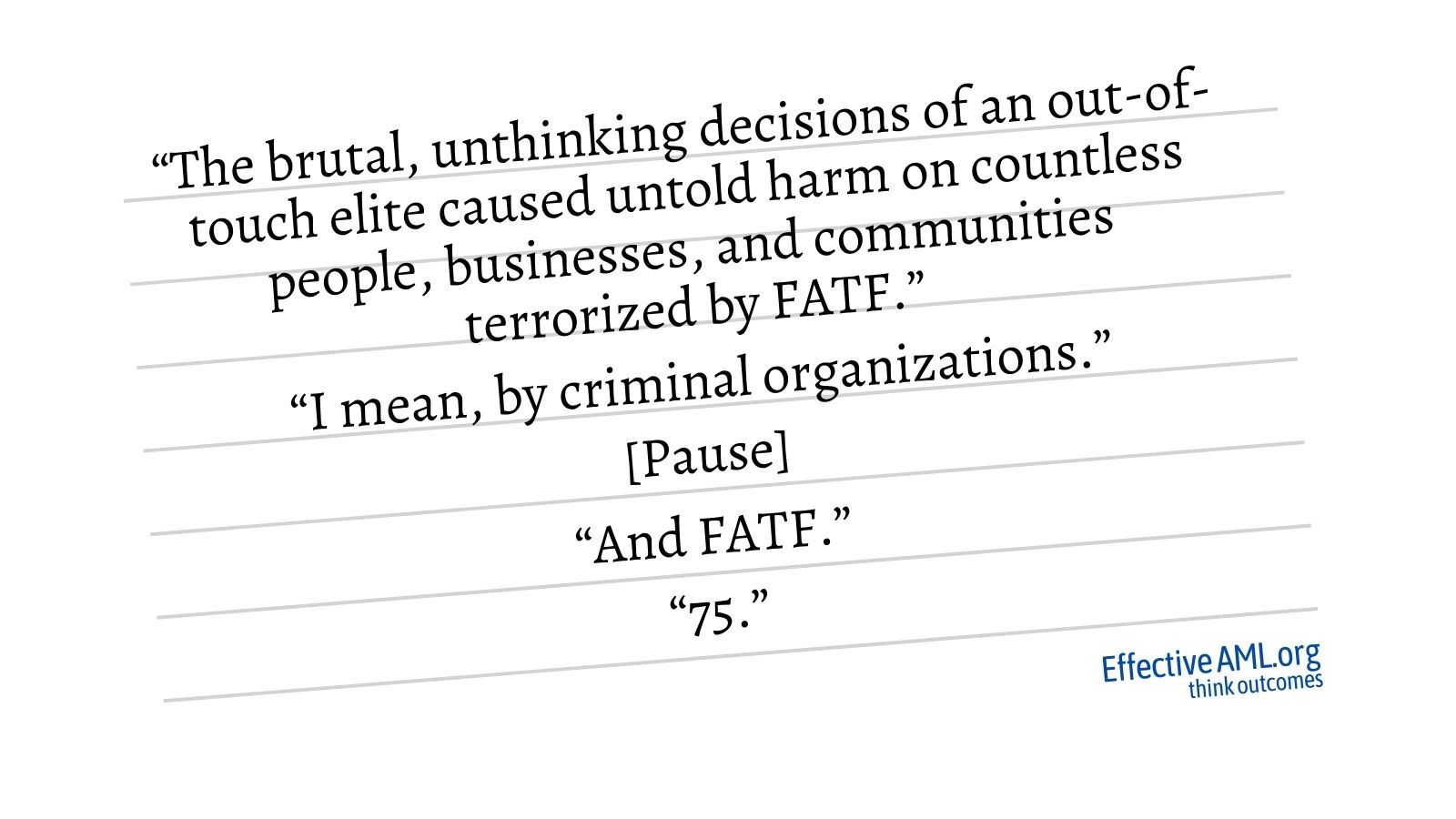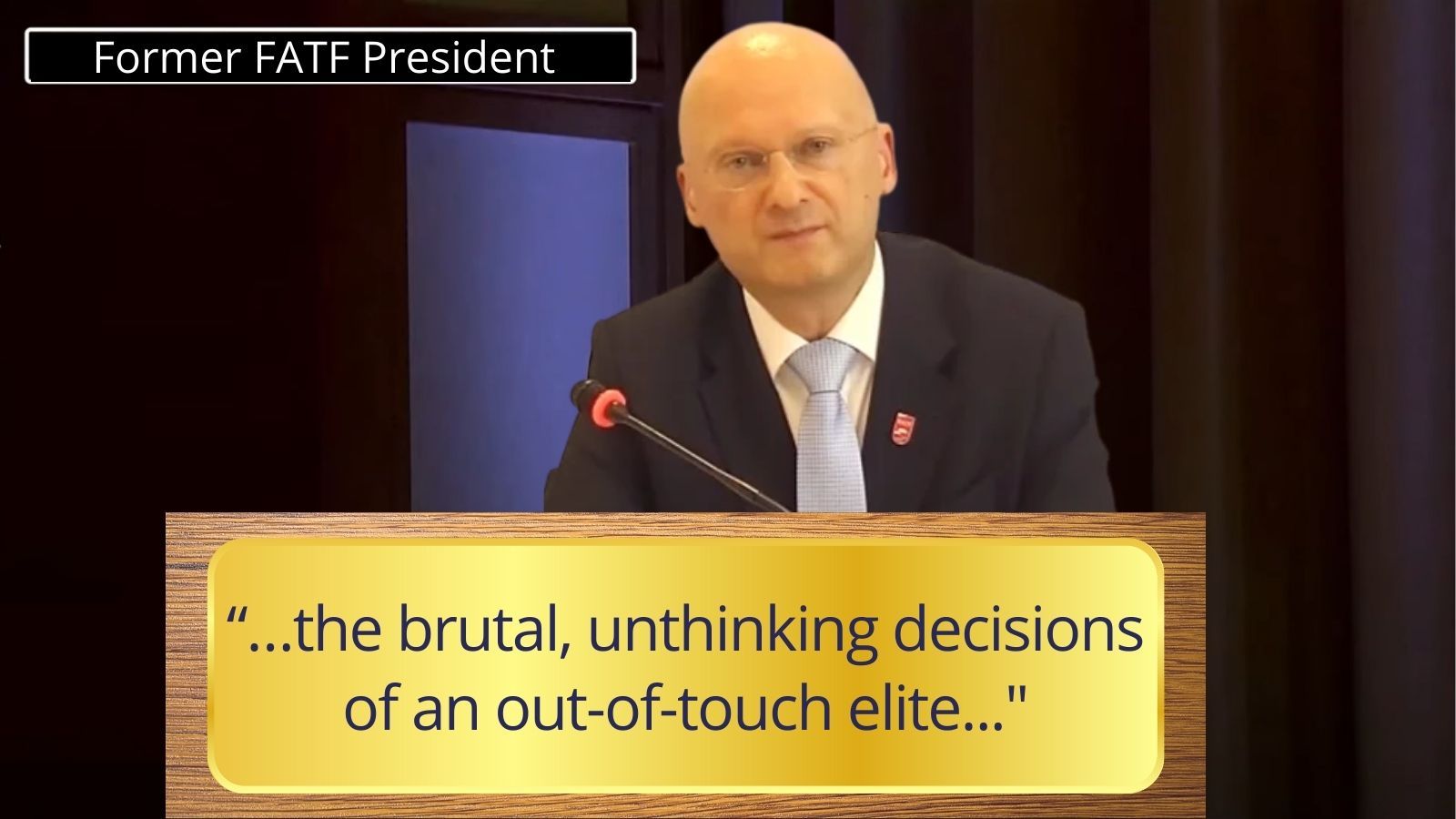 "Anyway", Pleyer might add, emulating Bush, while the FATF juggernaut continues its blinkered race towards #zeroimpactinfinitecost – with huge 'effectiveness, absent any actual effectiveness' signs blocking offramps towards better outcomes intended by G7 leaders – the current "forever war" mentality of the industrial compliance complex offers an ideal environment for this new game.
---
Note: Amado Jesús Guillén is a fictional character. The profound failure of the AML movement, and untapped capacity for success – with markedly, demonstrably, sustainably better outcomes for citizens, businesses, communities, countries, and humanity – sadly, is not.
---