Top official and criminal kingpin deny AML laws "bait and switch scam on global scale"
Leaders agree, anti-money laundering laws are "crushingly effective".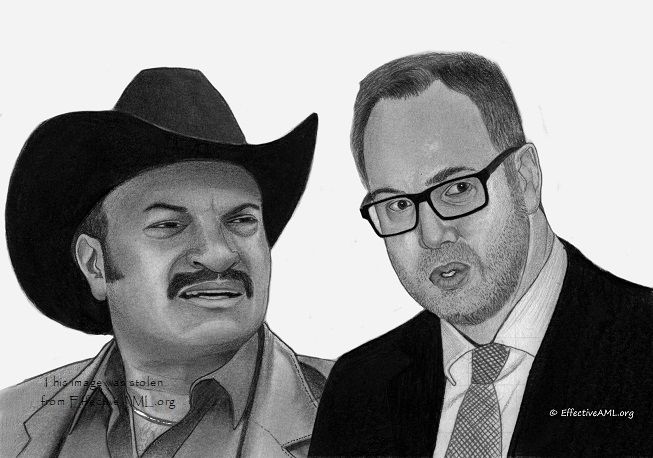 PARIS, FRANCE – David Lewis, executive director of the Financial Action Task Force, the global anti‑money laundering standard-setter, rejected reports Monday that money laundering laws have almost no impact on crime and are designed to give politicians convincing anti-crime platitudes while producing billions of dollars in compliance fees forever. "In combating $3 trillion made from crime each year, $310 billion in costs and penalties on legitimate businesses is a pittance", Lewis retorted. "While it is true that every cent is ultimately paid by taxpayers and ordinary citizens, successful prosecutions take place every day and some years $2 billion is also taken from criminals." Speaking by Zoom from an undisclosed location, Ismael "El Mayo" Zambada – presumed leader of the Sinaloa drugs cartel since the 2016 arrest of Joaquín "El Chapo" Guzmán – agreed with Lewis, adding that "anti-money laundering laws are crushingly effective. Organized crime groups barely keep 99.95 percent of gross earnings". Evidence supports Zambada's grievance. A 2020 research study found the proportion of crime money successfully seized is a staggering 0.05 percent, which the United Nations calls the "success rate" of money laundering controls. At press time, the study's author, Dr Ron Pol, a political scientist, said that "scurrilous media outlets might try to satirize these results, but it's just plain facts".
---
For more...
New website: Is it time to talk about Effective AML? Join Dr Ron Pol for dirty truths about dirty money.
The biggest problem with AML. The market for AML is huge – yet crime, harm, risk, and costs escalate while the market for effective AML does not yet exist. However, profound failure signals opportunity for profound value, and opportunity to flip those metrics.
Three interview questions for Police chiefs to ask financial investigators (Part 1 & Part 2). How would you fare?
AML satire or (you-couldn't-make-this-stuff-up) truth? Try this G7 leaders' anti-money laundering thought experiment.